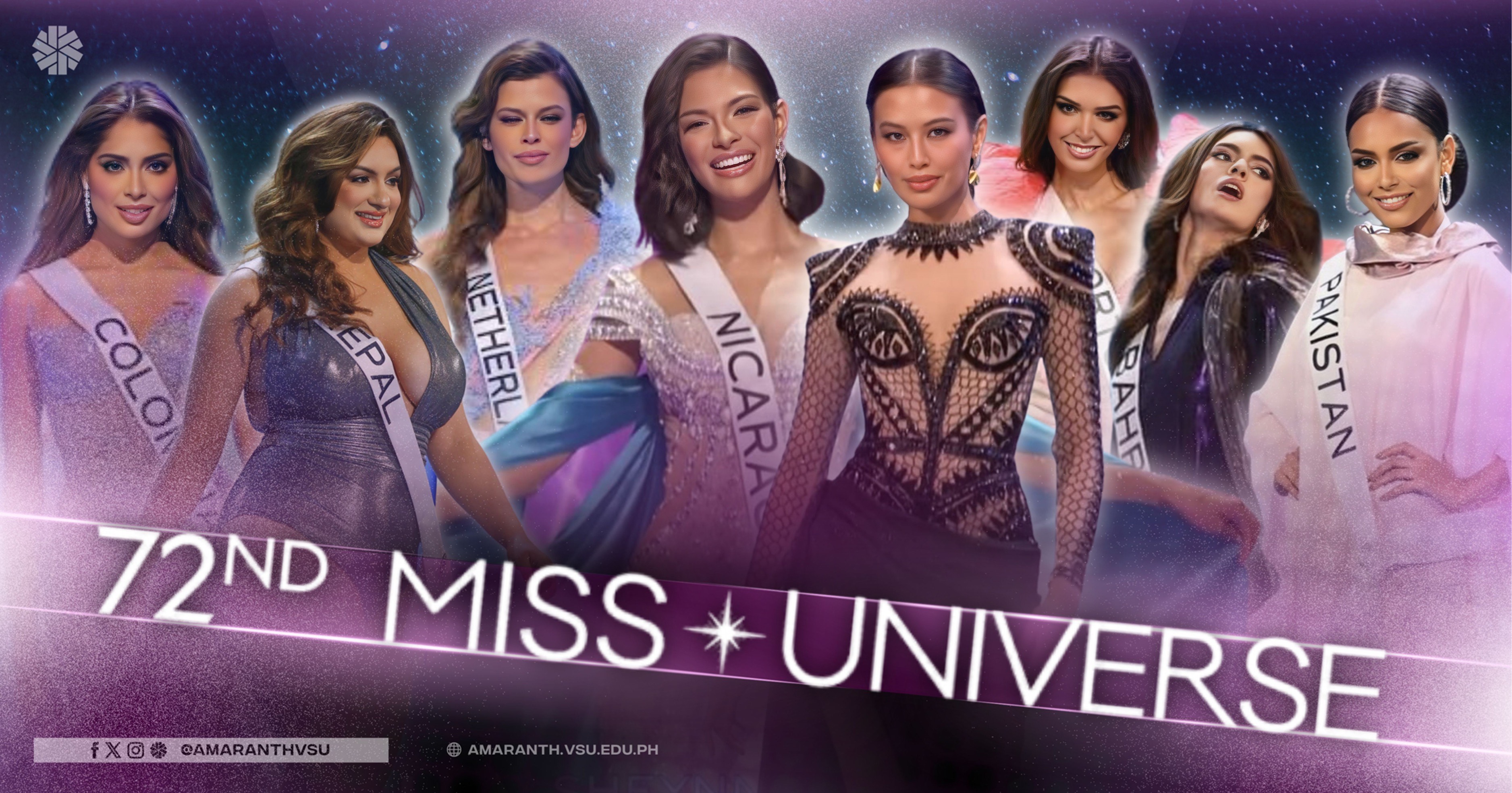 (Graphics by Paul Suralta | Amaranth)
"If you could live one year in another woman's shoes, who would you choose and why?"
I wonder how Michelle would have answered this question—I think we all have that same thought and also, would that shoe be a stiletto or a flat?
Jokes aside, the 72nd Miss Universe 2023 competition in El Salvador has just ended, and as an avid pageant fanatic, I need to vent. Miss Universe is a pageant I hold near and dear to my heart, partly as it amplified my gay awakening, but mostly because it has always taught me to admire incredibly intelligent and powerful women from across the world. It's a yearly thing of mine to watch out for what's happening in each year's competition: the highlights and the low blows of the night, and I'd like to share an honest overview of how the pageant went for me. Don't worry, we can agree to disagree, but valid points will be spilled, so take a straw and sip responsibly.
The show and finally… the cheers
The production was top-tier—I mean, it's Miss Universe, the biggest and most prestigious pageant ever. With all of its merits displayed from its charitable causes down to its hall of fame of beautifully confident winners, Miss Universe should be able to display its visuals to a level to which other pageants could only aspire, and they did just that. The gloss factor and the pizzazz were definitely 10s across the board. If anything, I would have loved to see the El Salvadorian culture showcased a little more on stage, just like how Thailand did when they hosted way back in 2018. It would have been fabulous to incorporate El Salvadorian dances, and song remixes, or maybe let the contestants wear El Salvadorian-inspired textiles and fabrics for the opening number—that would have been a great addition to an already stunning venue.
This year's hosting was also good, I specifically loved the addition of Maria Menounos as she incredibly matched the Latinx-dominated crowd. 12-time Grammy winner John Legend serenading the girls meant that the organization wanted to give a great show, especially since Paula Shugart was sashaying as the president of the Miss Universe Organization after 23 years of service; and Catriona Gray? She should compete again, and by that I mean she should every year.
What impressed me the most was the cheers for the Philippines! During the preliminaries, I had to aggressively push the volume-up button just to make sure that I was hearing Michelle's portions right, but as it turns out, the El Salvadorian crowd was just not hyping our girl. It was not only Michelle, but a lot of them except the Latina beauties wherein the crowd would just go absolutely feral. This all changed during the finals as the crowd roared after "Filipinas!" *matching taas kili-kili pose!*. It was a huge improvement, and I was glad to know that the El Salvadorian crown got their energy shot boosts before the show.
Women see women: Representation matters
Miss Universe always has a way of breaking barriers and receiving acclaim for transcending its tagline of being beautiful. This year marked a multiplicity of women being representations from various walks of life: Nepal being the most bodacious plus-size contestant working her swimwear, the Netherlands and Portugal being the two transgender women vying for the crown (the highest number in the show's history), the first mother being hailed from pageant powerhouse country Colombia, and the first contestant from Pakistan which also made the top 20 cut and rocked the stage in her baby pink burkini. While these achievements seem to be a means for some to capitalize on the pageant's marketing to its fans, it's good to see such changes being made on a global stage like Miss Universe, where millions watch every single year and where people would actually see themselves reflected on screen. And with the age limit being taken out, who knows how many more inspiring women will grace the stage for next year's fiesta in Mexico?
There was a time when people thought that these changes would not be possible or feasible even, but just like what Angela Ponce, the first-ever transwoman to compete in the pageant since its inception, said in her tribute speech in 2018, "I don't need to win Miss Universe. I only need to be here," and that speaks a lot as to how we must be welcome such changes as a society too, because if the most prestigious pageant in the universe can do so, so can we.
The girls were giving, but Michelle would've given them a RUN for the crown too.
After Celeste Cortesi's exclusion from last year's first cut, I am incredibly haunted by the fact that it might happen again with Michelle; not because I have any doubts about her capabilities, but since I know that it's still a subjective contest for God's sake, and these judges might just favor other girls and eventually want her out even before the pageant starts. But all the doubt left my head once she entered the semis; that was a breather for sure, and I was even more elated when she entered the top 10 since that would mean she could showcase her evening gown, and boy, did she showcase it well. Still, that wasn't enough to secure her a spot in the final five.
The answers were OK, but so were the questions. Last year's Q&A was an absolute banger, this year was fairly adequate. I specifically expected a lot from Anntonia (Miss Universe Thailand) since she's a previous international pageant titleholder, but she did sound rehearsed. If the contestants were asked more controversial or hard-hitting questions, then maybe it would've been a different story (and even a different winner). If Michelle made the top 5 cut, edi minukbang niya na sana silang lahat—but who knows? Destiny never misses, and it sure was Sheynnis Palacios from Nicaragua who got all the luck in the end, and she deserved it.
MMD deserves the credit.
She ate. That's it, period.
I could've ended my thoughts there, but to talk about Michelle's performance would include an extensive appreciation of everything, from beginning to end. Winning multiple awards and sustaining the perfect momentum up until finals night was the best way to campaign her chances of the crown. From the detractors who looked down on her for not having the "wow" factor that most PH reps had (which I totally disagree with) to the multiple issues that her organization had to go through even before, she definitely came above and beyond to pull off the best fight that our country has had for the pageant in years.

For the longest time that I have been a pageant enthusiast, this was the first time where I couldn't pinpoint a tremendous deficiency with regards to our candidate's performance since Catriona Gray. Unlike previous editions, I've always jolted along with the complaints of "Dapat kase yung gown nalang ni designer X yung ginamit", or "Dapat kase tumingin sa camera o di kaya nagsmile pa ng konti", but she absolutely gave justice to being a Philippine representative. I was sincerely hyped every time she would strut the runway for the swimsuit competition: Binakla tayo ni Dora using her long-legged! It was clean, crisp, and sexy (and my sexuality is also questioning itself now). She made us proud—at least we Filipinos can agree on that. I couldn't ask for more… well, Top 5 sana, pero let's just reserve that for the next edition, I guess.
From the styling team to the conceptualization of her plane-inspired costume, the designers of her OOTDs, and even her mental fortitude, she was in it to win it. She must be given her flowers. What truly stayed in my heart throughout her journey was her tribute to iconic women, such as her mother, Melanie Marquez, who was the inspiration behind the green bedazzled snake gown, and of course, the Kalinga tattoo icon, Apo Whang-od.
In an IG post by the gown's designer, Mark Bumgarner, Michelle's gown was an all-black homage to the traditional Filipino tattoo artist, the last "mambabatok" in the country, Apo Whang-od. Threaded with black Swarovski crystals on some intricate ethnic patterns and a draped waist skirt, this gown stood out amongst the sea of golds, nudes, and silvers that we usually see on the Miss Universe stage. It was a shame for it not to be recognized by the competition itself. More than just being recognized as iconic, it was the imprint of a strong independent woman who lived to tell the tale of preserving her culture for the world to be in awe of, and Michelle knew exactly how much was riding on the line for the world to see such artistry and we must thank her for that.
Is Miss Universe still 'it' for us? What's in store for the Philippines?
Miss Universe will always be a thrill for Filipinos. Catriona explained it well when she exclaimed that Filipinos get the undeniable Pacquiao energy every Miss Universe season, and we do have one of the longest placement streaks in the pageant's 70-year history, so we have a lot to be proud of. It's idealistic to say that we need to win or take a runner-up finish every year because truth be told, other nations have caught on, and it's a matter of preference from the future judges if they would ever want our candidate to win or not, but one thing is for sure, we must never let our girls fight without any rally of support. Michelle's journey would have never been this fruitful if it wasn't because of our bayanihan, and all the accusations of the pageant being rigged or "luto" would only be accounted for if the eventual winner did not work hard for it, but she did.
The 72nd Miss Universe was a true story to tell, and we Filipino fans have a lot to be proud of than to share what-ifs on. I know, some have slammed their TV screens in discontent with the results, and I could have done that too with my phone, but my phone might never come back to life again if I do so, and it may never be the same again if we choose to thrive in anger and hate towards the pageant in the long run. The Filipinos are indeed the most passionate fans, no wonder there's still so much that Michelle could take away from this experience; our love and support have always been with her, and that's all that matters. I have always believed that every girl who wins the crown is in their rightful destiny, and they would have never made it to that point if they did not work hard for it.
Pride is all that fills my heart, kase lumaban tayo, at lalaban parin tayo! Now that we are back on track with our placements, let's just pray to the pageant gods that we won't have to wait for decades just to get another Miss Universe crown.
Oh wait… before I forget, the paid Fan Vote, Michelle actually confirmed in an interview that we won; ano kaya nangyari don?