[Editor's note: This article is not a prediction nor does it claim to know the events in the lives of individuals. This is only for entertainment purposes and shall then be considered as such. You still hold the pen to your life story. Write it courageosly.]
"A new year, new me." The mantra shared by many, followed by few, and ultimately (realistically) brought about by none. But have you ever wondered if there were other forces at play when you first made that choice to change? Perhaps forces extending past the realm of our planet? Was it possible that my bad decisions and the unlucky circumstances may have been caused by the alignment of the stars? (Again, realistically, probably not.) But it's fun to think otherwise!
That being said, grab your astrology birth charts, schedule a stargazing date in the VSU oval, and let's talk about what the stars have in store for you in 2023!
Did you know? The two luckiest signs in 2023 are actually Aries and Taurus. With the movement of their respective planets entering the "Emerald year" which only happens every 12 years, these two signs are blessed by Jupiter itself!
Aries
Impulsive, witty, and headstrong. These qualities—while others may think of them as a major turn-off, will finally pay off in terms of your academic and romantic prospects. Being one of the two luckiest signs in 2023, your first few months will be smooth-sailing (as smooth as it can get!) but be careful, this doesn't mean that you could just rush into things without consequences. That being said, please watch your spending. Be mindful about your budget because money matters are going to be really tricky when your impulses compel you to "add to cart" which is especially prominent this year. You may be prosperous for now, according to the stars, but you won't be if you keep sabotaging yourself.
Lucky VSU object: ID sling/lanyard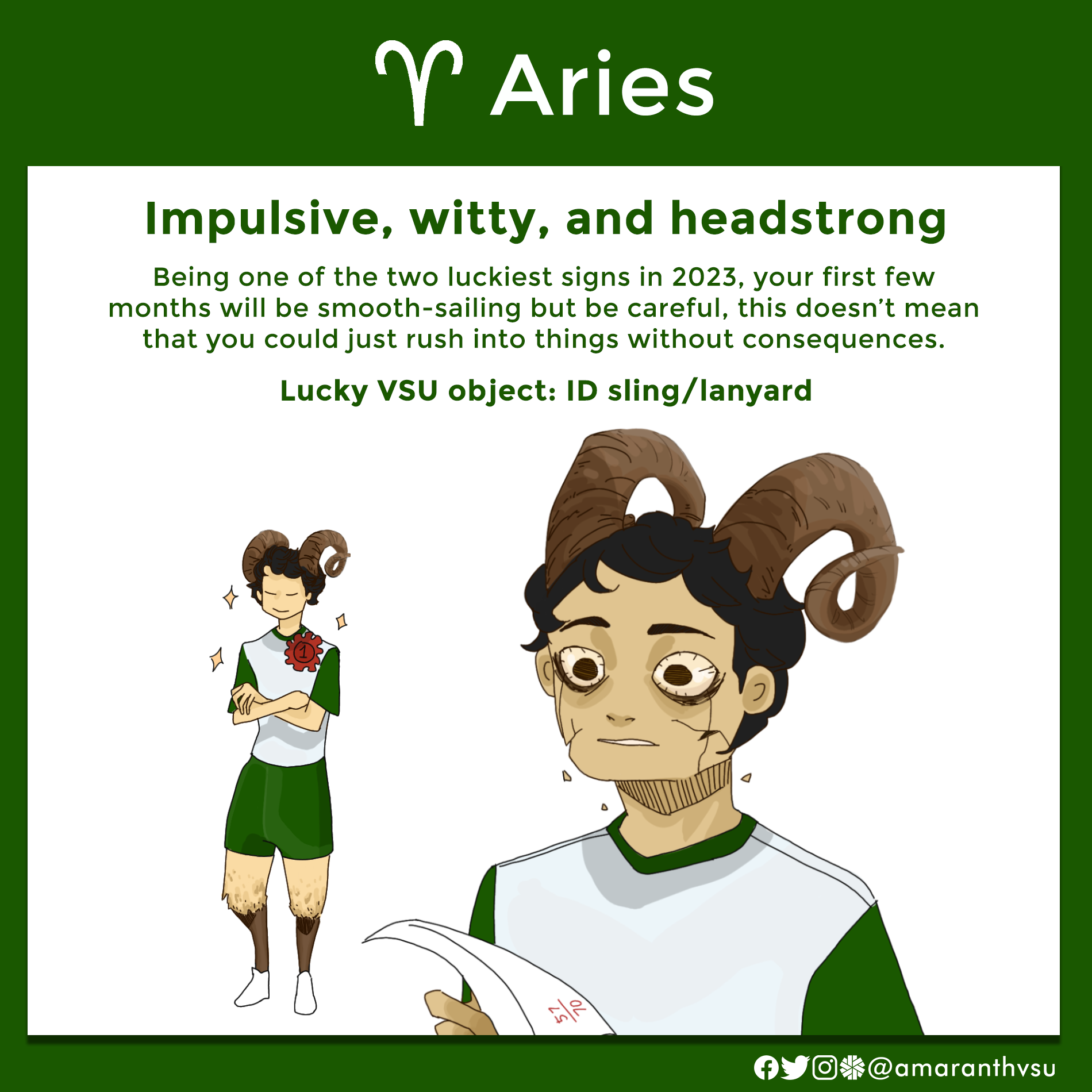 Taurus
down to earth, reliable, a bit of a people pleaser, and loyal (almost to a fault) Was 2022 a rough year for you? Gikapoy na ka? Well, I have some good news for you! With 2023, comes rest and more time to reflect. For this year, Venus itself is giving you enough time to re-evaluate your personal beliefs and the current choices you've made up to this point. With your luck, now is a good time to actually make serious decisions (that you've been putting off until this point) Whether or not these decisions involve academics like shifting to a different degree program, or whether or not you'd continue a relationship—2023 is the year for you to finally stop "going with the flow" and make choices for your own peace of mind.
Lucky VSU object: Chocomilk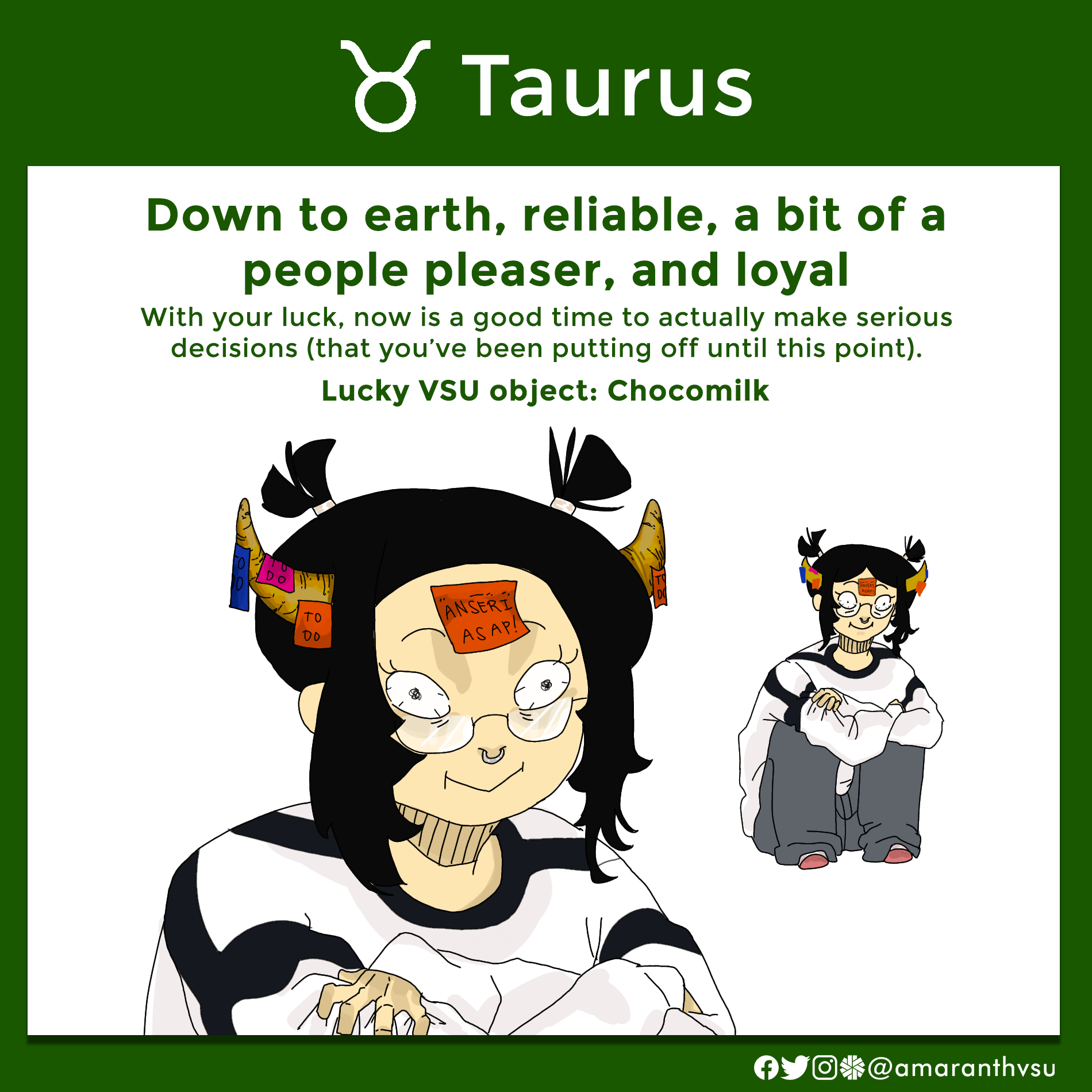 Gemini
Your planet is stagnant and unmoving—and unfortunately, so are you, at least, in the first few months. The days may feel monotonous, boring, and maybe you're feeling restless. But brace yourself because in the later half of the year, you're going to go through the most intense series of events in your life. Relationships, acads, all aspects of your life are going to go through a roller-coaster of turmoil, triumph…and a series of plot twists. (Maybe one specific plot twist if you know what I mean .)
Lucky VSU object/location: The left obelisk sa main gate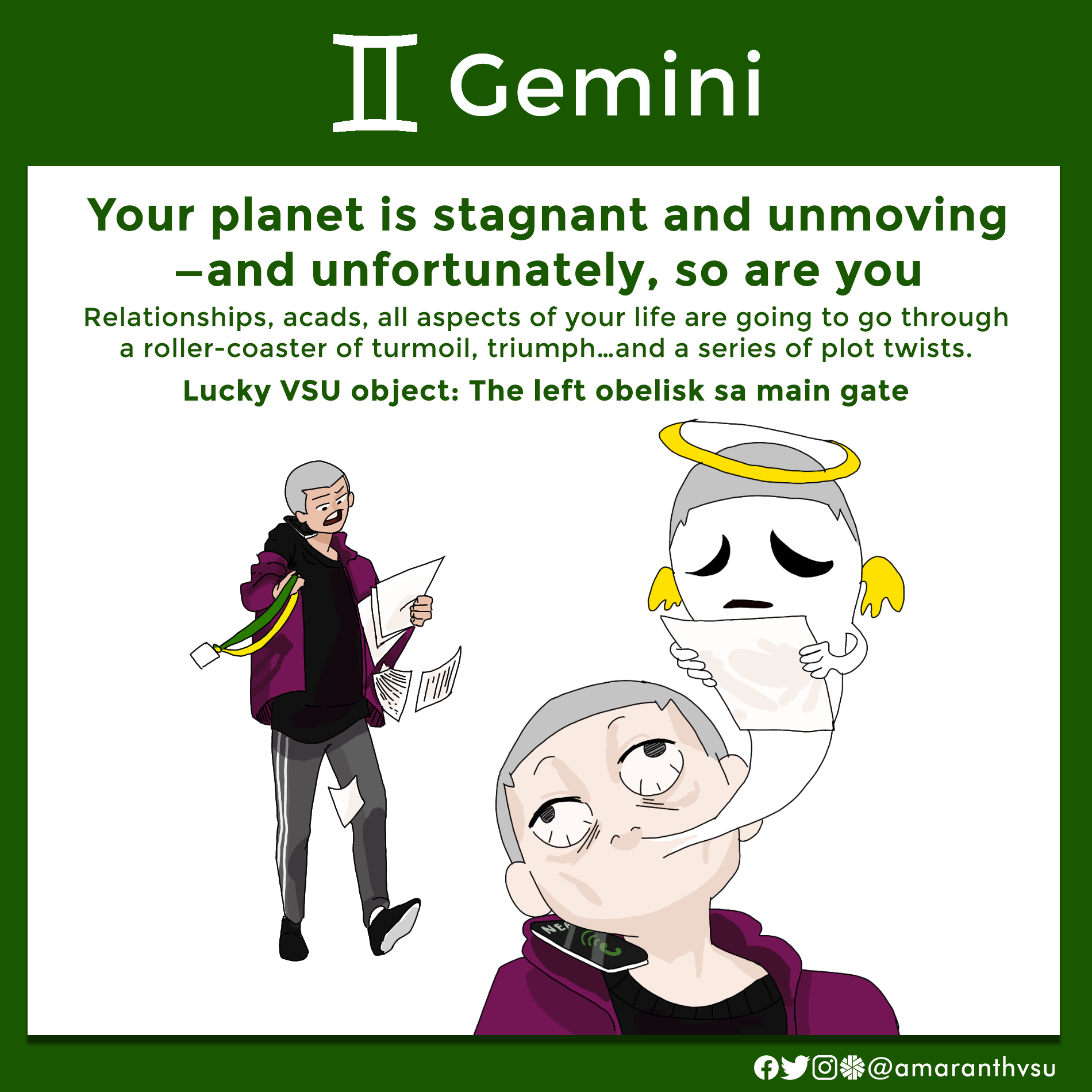 Cancer
This year will be defined by your conflicts, challenges, and the most overwhelming set of responsibilities for you. You may feel fed up with your current situation, you long for the past, maybe you want to go back to when things were simpler. But be careful, this romanticization of the past will only worsen your emotional turmoil. It's best to focus on the present for now, maybe chug a bit more coffee and just show up to class, even if you don't feel like it and you'd much rather be at home. That being said, this is the year you will learn to adjust and create systems that will help you in the future. Conflicts may arise from your family and friends, but it's best to try and face this head on instead of avoiding them and running away. The same has to be said about your acads too!
Lucky VSU location: VSU gazebo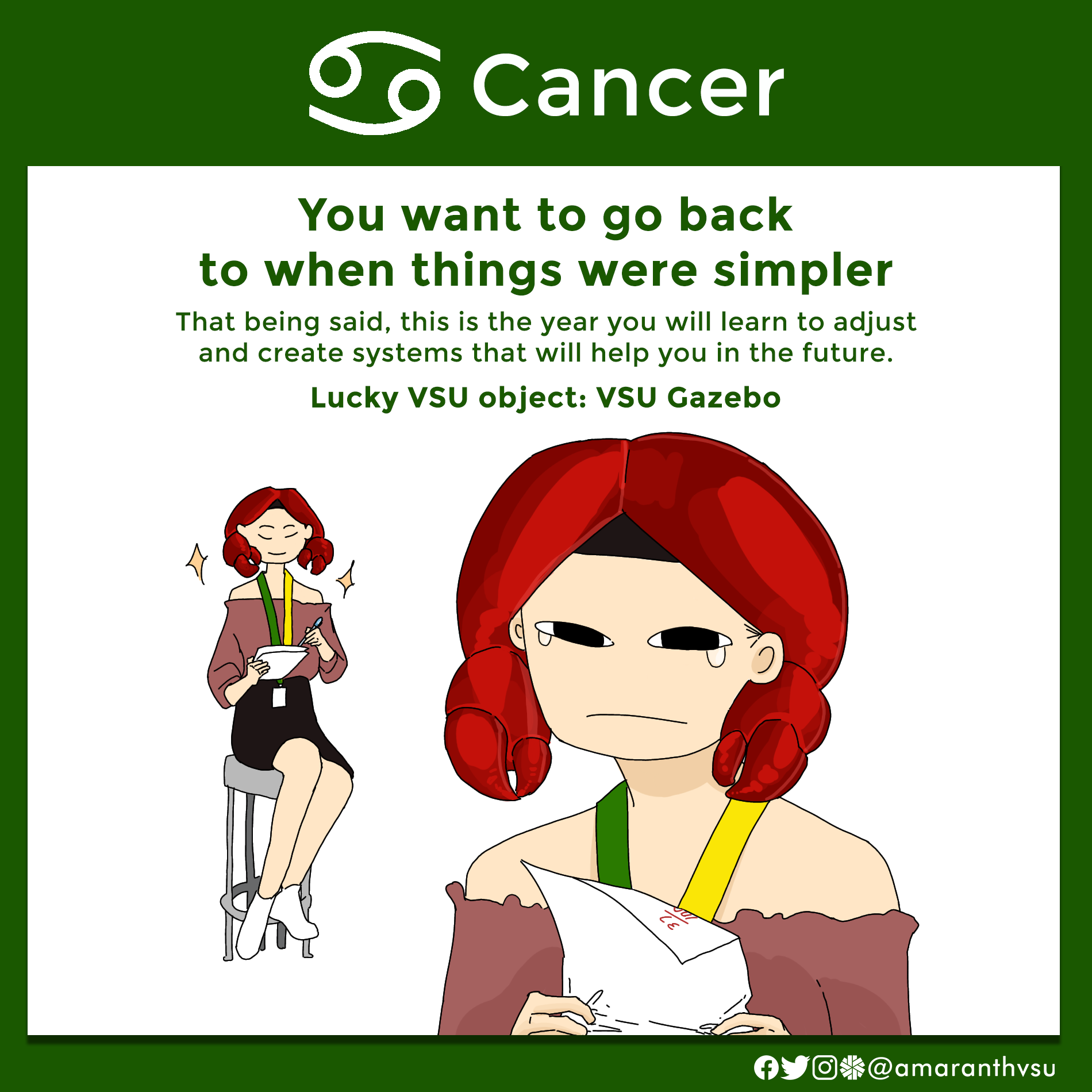 Leo
Leos are typically defined by their ambition and go-getter attitude. If not for academics, then it's their determination to do whatever they feel like doing. While this is the year to indulge in these ambitions and desires, it is also the year where all the insecurities you've been trying to cover up will come back to haunt you. It's best to have a strong support system when these intrusive thoughts plague you. These support systems could be through your friends, your relationships, and even in yourself. Leo, while this year may be marked with turmoil, it's also the year you'll discover who your true companions are.
Lucky VSU location: 2nd floor library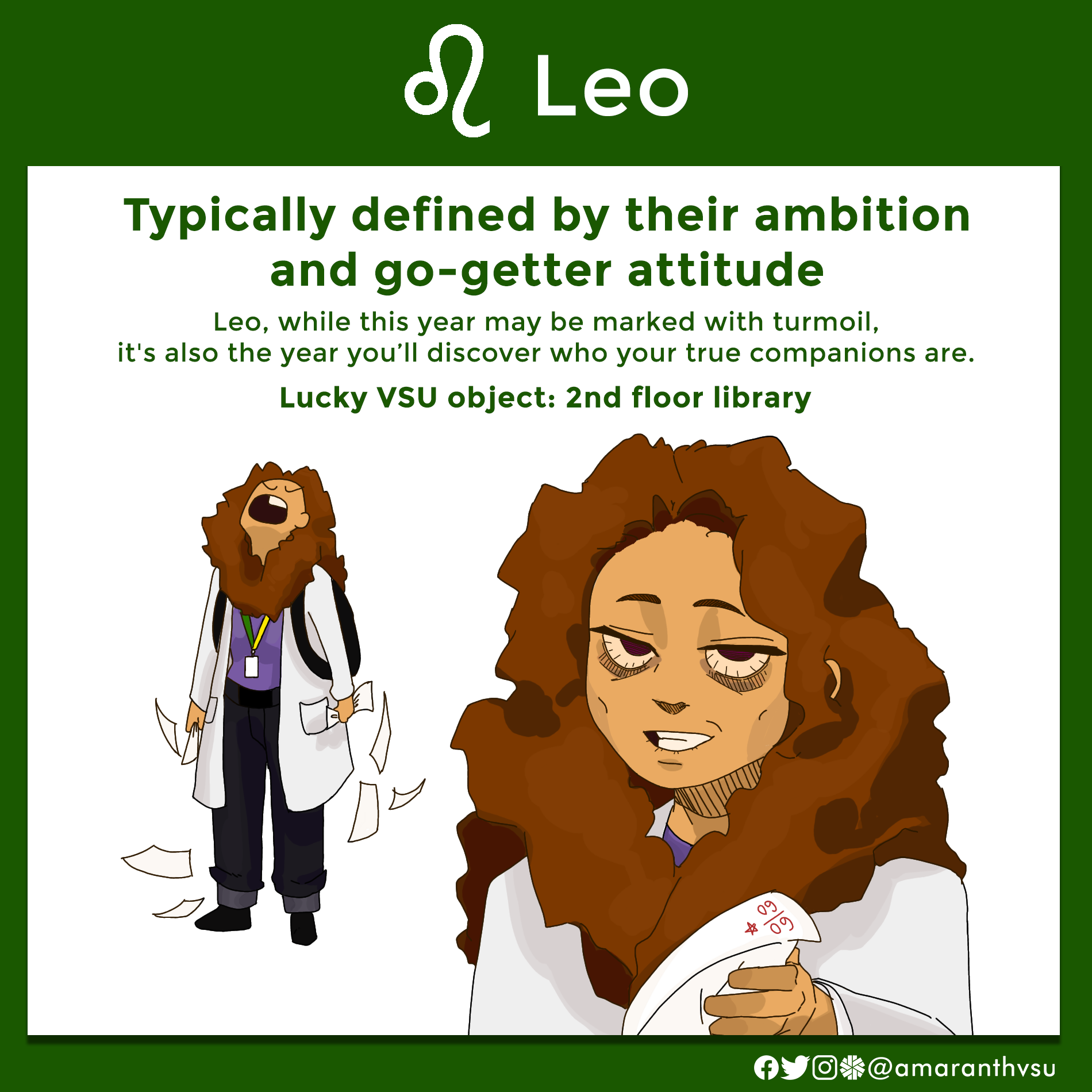 Virgo
Miscommunication will plague the first quarter of your year Virgo. This means that the best way to circumvent this is by learning how to communicate and properly express your feelings before misunderstandings spring up. You may feel attacked or offended by what other people have said about you, or you may take things way too personally, but this is the year for you to take a step back and breathe. While you may face inner turmoil, you also happen to be one of the signs with a deeper connection with Venus this year. What does this mean? Well, let's just say that if you've been pining for a certain someone, now is the time to make a move—but only if the signals are just right!
Lucky VSU location: Ecopark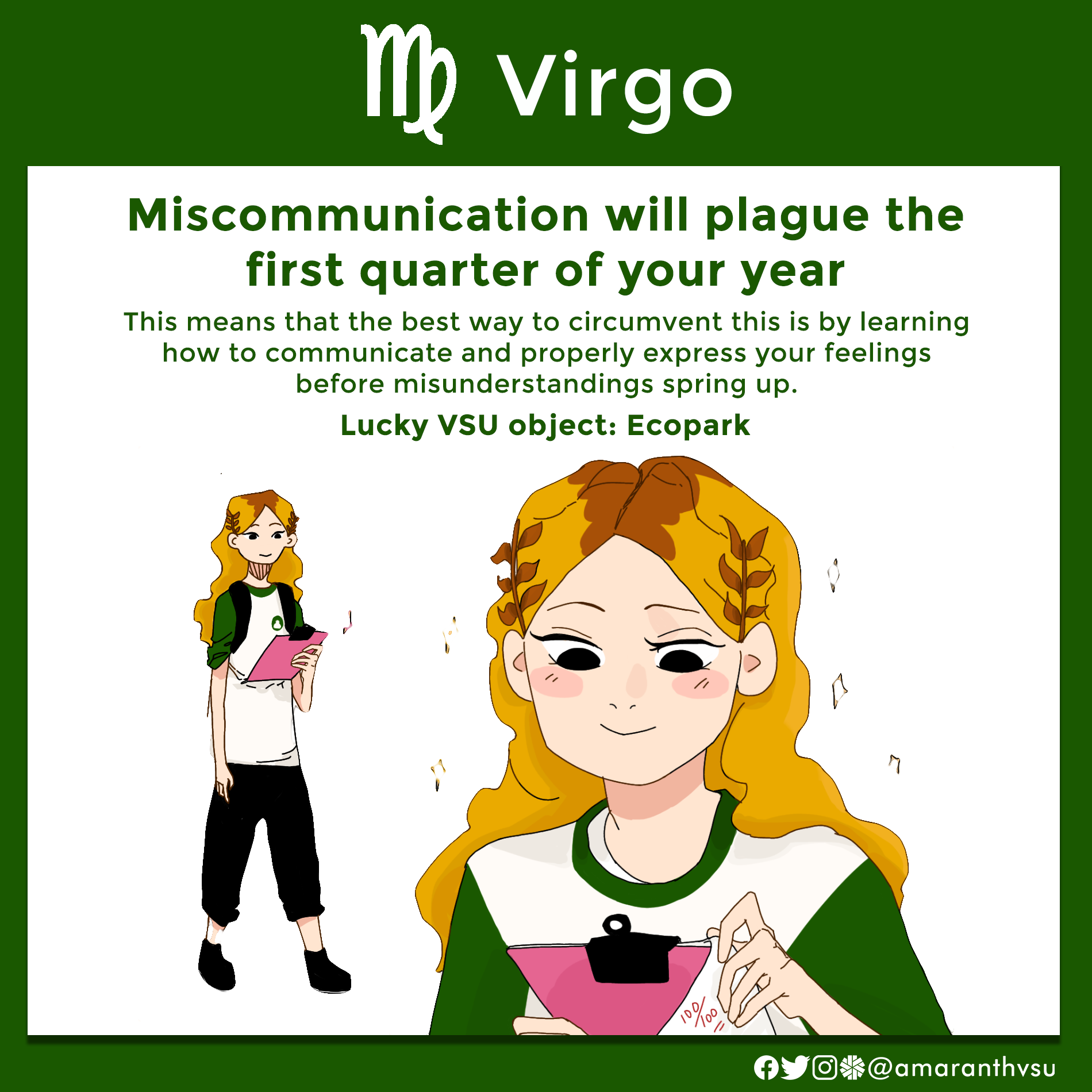 Libra
You've spent the majority of 2022 balancing the scales. Now it's time to tip one over to the other side. Stop being indecisive and move. Stop waiting for a sign (and if you're still waiting on one, let this be your sign nalang) It's time for you to actually start making decisions that would actively lead you to success. Do you want to confess to your face-to-face crush? Go for it. Do you want to apply for that job that you feel underqualified for? Have the audacity and just apply! With the south node of destiny as your safety net, you are encouraged to release all your inhibitions and actually live in the present. That one decision you've been putting off in hopes (or fear of failure) for better choices—make a decision anyway.
Lucky VSU location: Stairway to DOPAC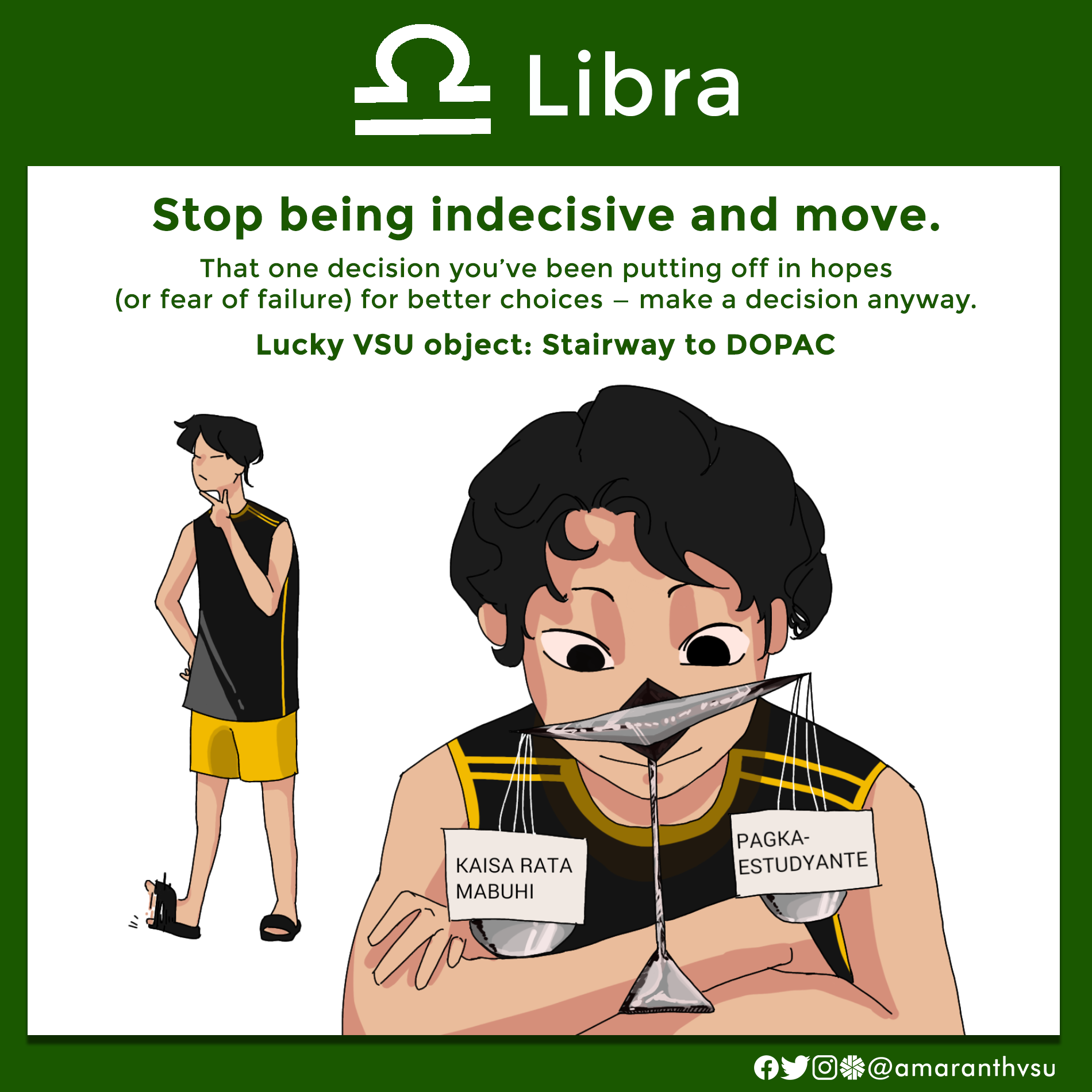 Scorpio
Inspiration! Out of all the star signs, scorpios are the ones blessed with inspiration this year. Whether it's through your academic pursuits, your love life, or maybe your own personal hobbies, this year is when you'll find or reignite your drive to pursue your passions again. Sure, you may have nth amount of activities and backlogs at any given time, despite this, your passions will find a way to manifest themselves.
Lucky VSU location: VSU beach garden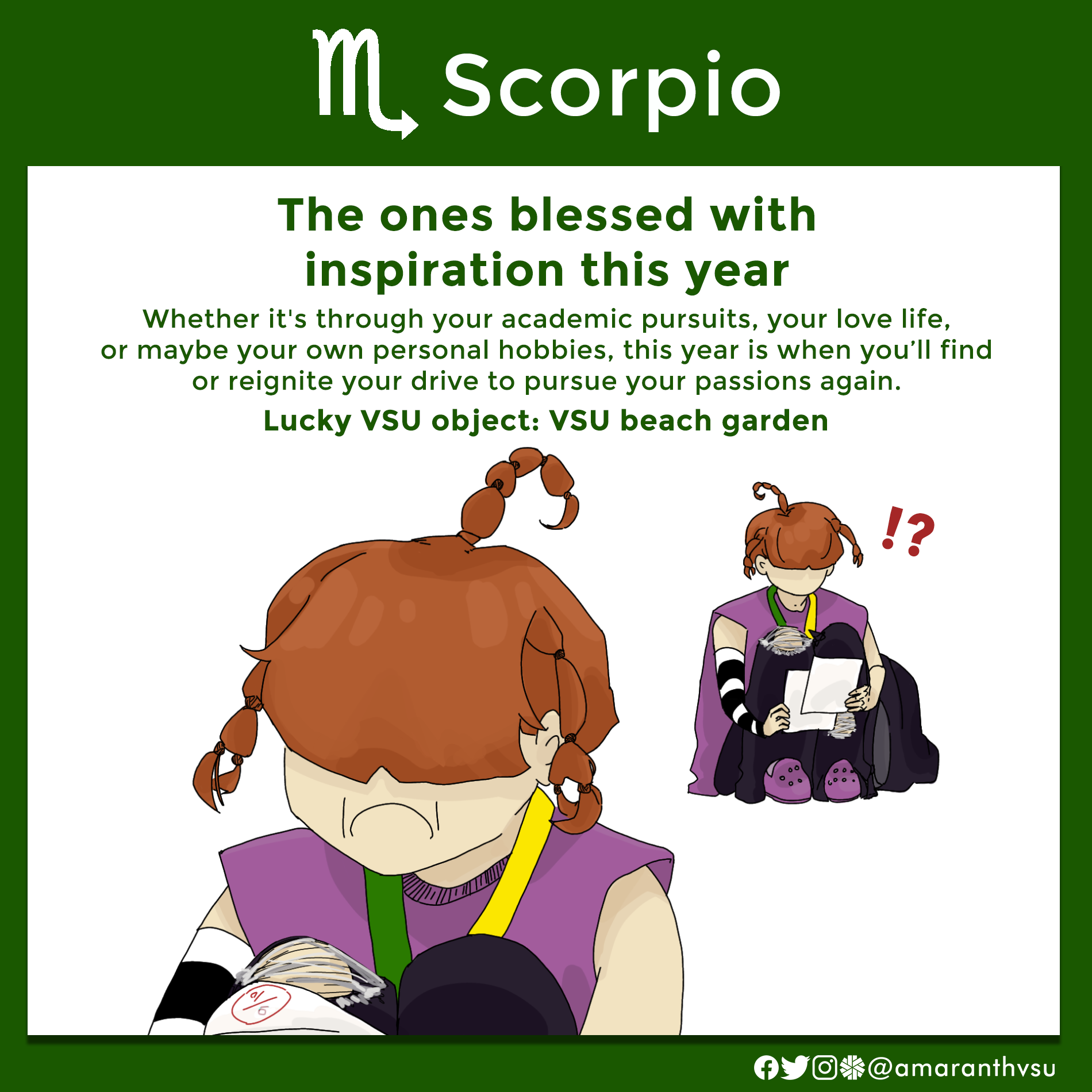 Sagittarius
While 2022 may have been a year for making new friends and building connections with your peers, it's time for you to return to your roots and remember why you came to VSU in the first place. Was it your family? Was it someone who inspired you in the past? Talk to your parents, maybe give them a call every once in a while. Your future isn't going anywhere, so it's best to reconnect with your loved ones and spend as much time with them as possible. Be careful not to lose yourself in the crowd, because the first few months would actively test your ability to stay true to yourself.
Lucky VSU location: VSU fast food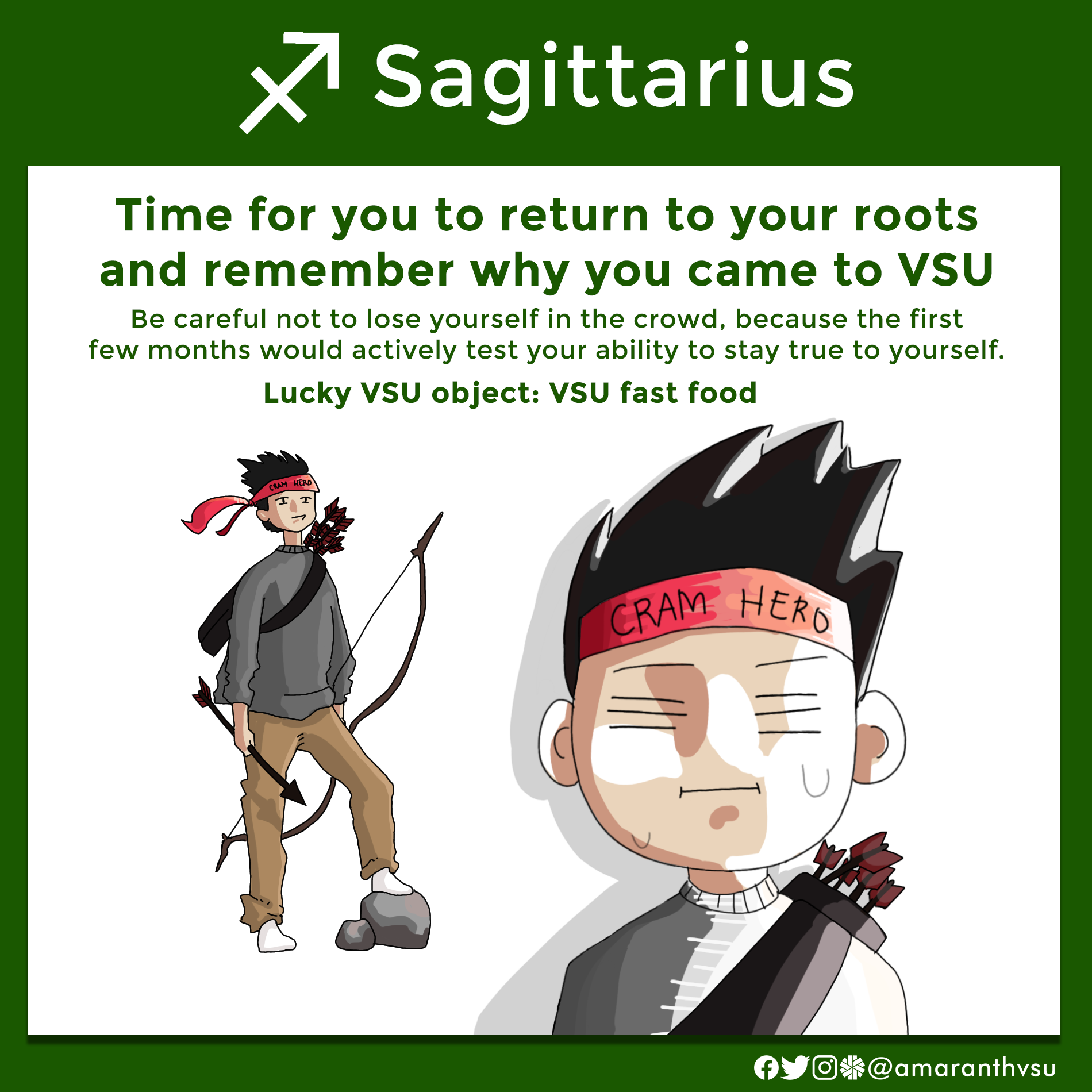 Capricorn
You've been a side-character for too long, Capricorn. This is the year you'll finally start to break out of your shell. Participate in clubs, dye your hair, do whatever it was you wanted to do in the past but were too scared to do. You may have cared about what others thought of you in the past, but this is the year for you to finally fight your fear of change. Breaking your routines may seem horrifying at first, but with the support system and group of people you've managed to gather around you in the past years—you'll be able to overcome them and come out incredibly stronger.
Lucky VSU location: DBS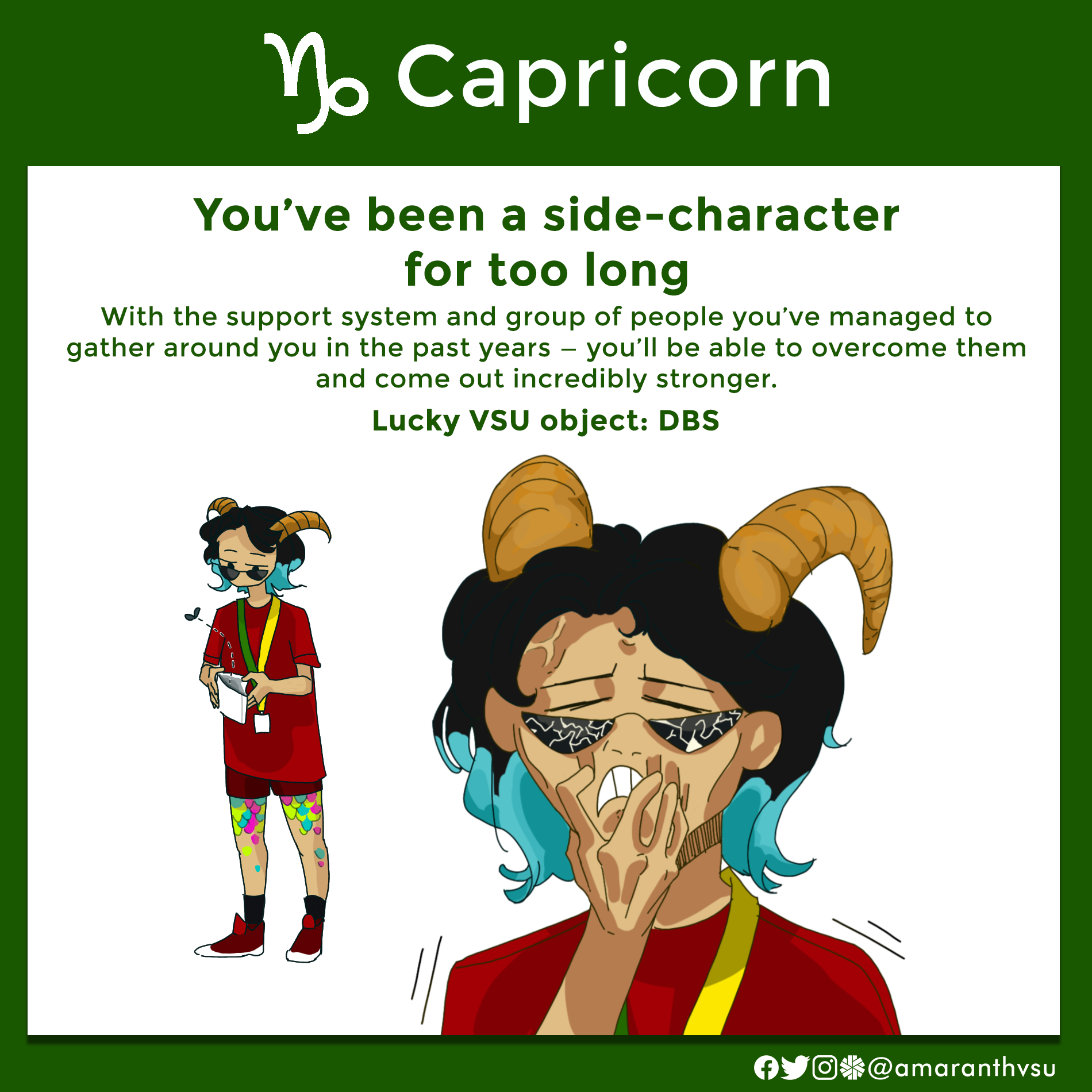 Aquarius
You've been bottling up your emotions for the past couple of months—years even. While this year won't bring much transformation or change regarding your coping mechanisms, you will undergo changes in terms of the people around you. Maybe you've spent too much time around toxicity that you've forgotten that having a healthy social life means not having to constantly think about whether or not everyone hates you. You typically cope by acting like it doesn't bother you as much, that it doesn't hurt as much as it does, and this is the year you'll finally notice a pattern in this way of thinking. No, you're not the problem, as much as your brain makes you think you are. Maybe try changing friend groups, re-evaluate your current relationships, and don't be afraid to cut off. The same could be said for your academics. If you feel like every day in your degree program is torture, maybe it's time for you to ask yourself if you've chosen this path for yourself, or if you've been led here by the whims of other people.
Lucky VSU location: Market entrance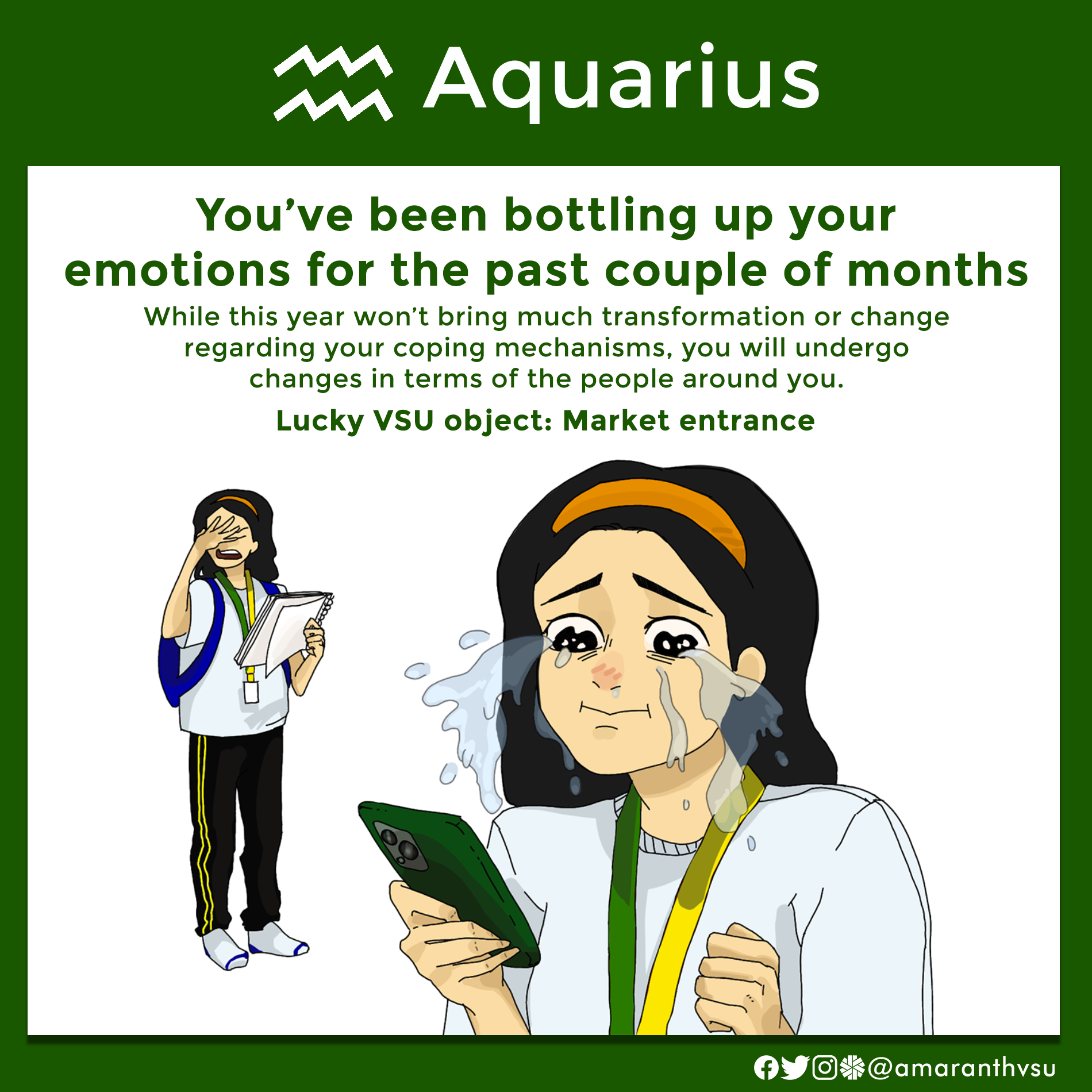 Pisces
2023 may not be your year (but next year it is!) but in terms of your health and your personal relationships (with your family and friends lang muna hehe) you're thriving! All of your manifestations? Manifested. Out of all the signs, you start the year off with the most hope and surprisingly, end the year with the same enthusiasm as you've begun. Don't expect a lot of changes in terms of your status quo—instead, learn to appreciate and enjoy your present. Don't say no to "laags" pining and preparing for an invisible change. Go on dates, explore Baybay city, and enjoy your youth. After all, next year is going to be interesting for you in more ways than one
Lucky VSU object: Orange plate inside the VSU fastfood