VSU Pythons Football Team is a well renowned football team in Eastern Visayas. In the regional SCUAA meet for the years 2010, 2011 and 2015 they finished as the 2nd runner-up, while 1st runner-up in the years 2012 and 2013, and champions in 2014.
Aside from world-class research facilities, Visayas State University is also known for its picturesque and athlete-friendly training grounds. This gives Viscans the opportunity to enhance their skills in their preferred sport. One of these is football, a rigorous sport that requires intensive physical conditioning. The university has a team composed of twenty-two (22) students enrolled in different programs who are willing to train and play under the VSU Pythons Football Team, the official football team of the university. They represent the whole system in different games such as invitational, divisional, and regional State College and Universities Athletic Association (SCUAA) meets.
The team is engineered through the leadership of their coaches, Ivan Joseph Gumaod, David Winston Tabada, and team captain, Kenneth Paul Laude. With their leadership and composure, they were able to build a good chemistry, lifted their players and teammates up, and paved the way for everyone to follow.
5th Mayor's Cup: Mettle, Grit, Resurgence
After years of online classes, the VSU Pythons Football Team had a difficult time finding a way for them to train and participate in games being held in different parts of the region. There is a long process before the team can join an off-campus game; there should always be a clear coordination from the game host (venue, time, and date), and each member (including the coaches) has a hectic schedule. These factors did not stop them from making the Viscan community proud for games they could take part in.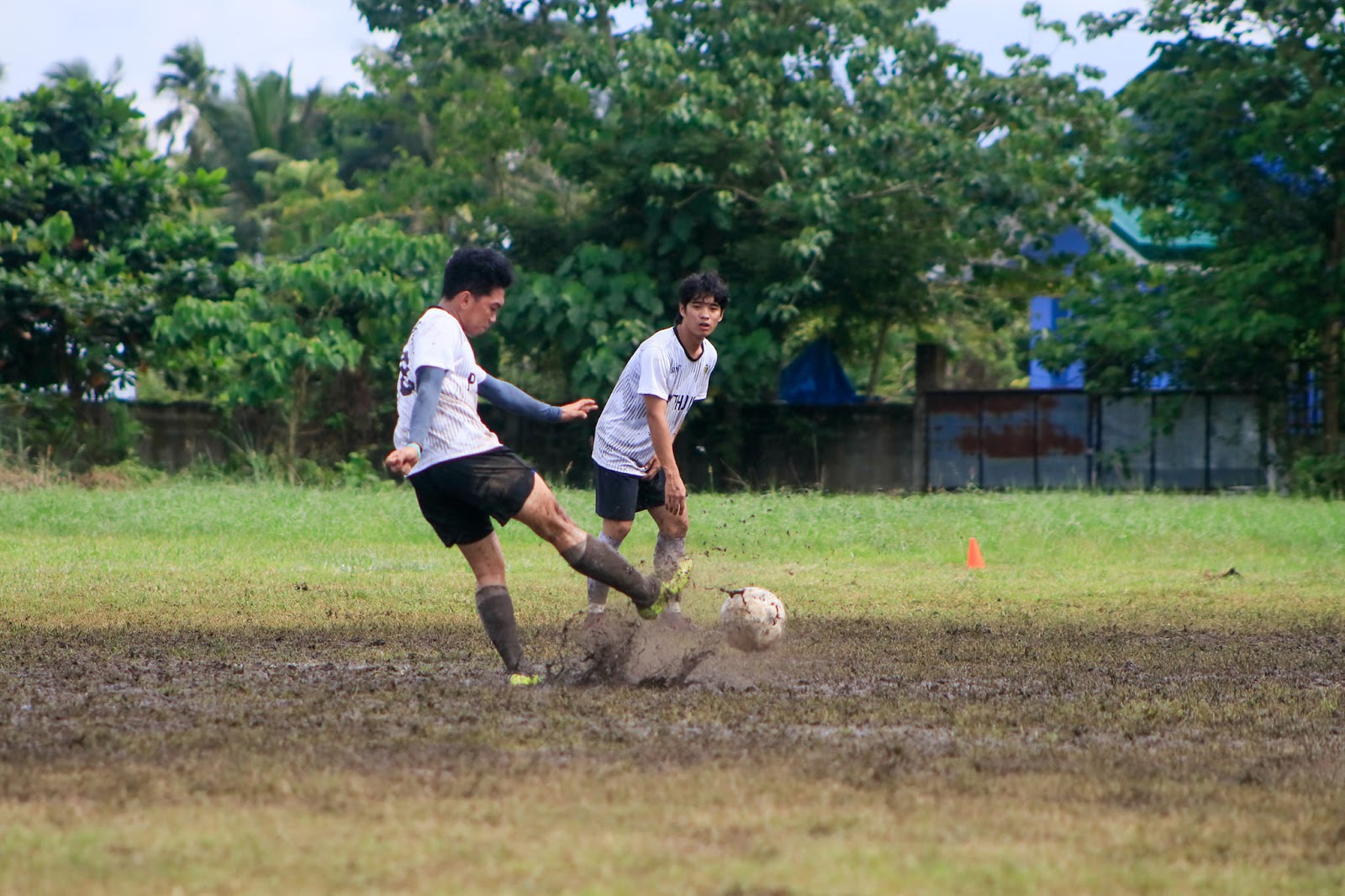 The Pythons football team has been a silent achiever all season long. They have been dominating their opponents since the year 2022, particularly the 5th Mayor's Cup, which was held at Hilongos, Leyte. Since the event was a seven-a-side set up, the team was split into two, Team A and Team B. Both teams were successful in the tournament despite falling short in their pursuit to win it all.
VSU Team B managed to end the tournament with a quarterfinals finish. They pulled off a 3-1 advantage over Hilongos B, and an impressive 2-nil(0) victory against Sogod FC. However, their fate in the tournament would eventually end after falling to Hilongos A with a narrow 1-nil defeat.
VSU Team A however were able to reach the championship round. They were able to cruise through the group stages along with a convincing 3-0 win over Bahi FC in the final game of the group stage. This has secured them the top spot of their bracket and would eventually propel the team all the way to the Semis against Hilongos A. Showcasing their mettle and grit. They were able to outlast Hilongos A in a triumphant 1-nil victory.
Their pursuit for championship immortality however, would eventually conclude in the finals after losing to Pacific FC. The scores were leveled at full-time at 0-0 but they were closely bested in the penalty shootout at 2-3. Despite the loss, the team began to realize and remember their championship identity.
Athletes' Obstacles
To be globally Competitive. That is how each Viscan strives, both academically and in extra-curricular fields.
However, the life of student athletes is no joke!
Aside from studying hard to excel in their respective classes, they must also train hard on late nights and early hours to meet the conditioning demand of their respective sport. Factoring all those facets in, their schedule as a student and as an athlete becomes occupied to say the least.
Training has been a challenge since each of the players has different class schedules. That is why they try their best to practice three to four (3-4) times a week. On top of that, the weather is also a hindrance to their training sessions. The field has been damaged and is relatively difficult to play and train on due to successive rains in the past months. It was often muddy and had spots which carved the good condition of grass and soil on the field. Playing on such field conditions poses risks of injury.
In addition, the transition from online to face-to-face classes is another big challenge for the players. It took them several weeks to recondition their mind and body to be ready to enter the field once again.
Another hurdle for the team was their budget for transportation, food, and registration. Due to a very hectic schedule on their part in terms of work and school, it is challenging for them to process papers for the needs of their team. Commendably, Coach Ivan and Coach David were able to shoulder most of their monetary, transportation, and food problems as well as the registration for the team to be able to compete against the best-of-the-best in the region.
With all those adversities they had faced, they learned and grew closer together. As their captain said, "closeness to each other helped build the team's chemistry which made the difficulties that we faced to be solved easily", overcoming hardships with a football on their feet. These challenges helped them embody VSU's mantra, to be Globally Competitive not just in the nature of academics, but in the nature of sports and life itself.
They are here, and they're back!
Obstacles will not stop these relentless and tenacious players with a championship mettle from working hard day in and day out to bring VSU's name to glory.
Deprived from participating in the 2022 Intramurals and 2022 Regional SCUAA due to Covid-19 restrictions, they are hungry to prove to everyone and to themselves once more that they are the best, but this time, with a hardware to show for it.
Watch them make their glorious comeback as they reload and begin their journey back towards the region's throng of champions by competing in the VSU Anniversary and in the prestigious 2023 Regional SCUAA Meet to be held on their home field, Visayas State University.
VISCANS! Let's continue our support and watch them prove to us the champions that they truly are.