A musical dream is now on the verge of coming true as two young and talented people start to take their steps into the spotlight. A young indie duo band called "reon" is now gathering attention as their songs start to earn the recognition it deserves.
Reon is a Filipino indie music duo formed in 2020, consisting of Noah Glynn Alejandre (singer-songwriter, producer) and Reanne Julia Borela (singer-songwriter). Both hailing from Ormoc City, Leyte, the two already showed interest in music at a very young age.
Noah was born in a musically-inclined family. In the age 4, he started to play drums until he learned how to play the guitar when he turned 9. As a son of a pastor, Noah would play a lot for their church band making him more interested in music.
On the other hand, Reanne, a shy girl (as she described herself), started to sing when she was still in kindergarten. She would usually sing in church or at school and as years passed, her talent in singing became more refined. Despite being shy, it never stopped her from loving music and singing.
How it all started
Noah and Reanne were not personally acquainted. They were basically strangers who happened to be both interested in music. Early in 2018, Noah shared that he first saw Reanne on instagram, posting music covers in her stories. After hearing her voice, he decided to message Reanne and invited her to do a cover of Jeremy Zucker's song "You Were Good to Me."
However, it was not as successful as they thought it would be. Noah, as a sophomore computer science student that time, was preoccupied by his school works, leaving their planned song cover unfinished.
"I got busy with my school work during that time. I spent hours on my laptop daily, not to make music, but to finish all those lab activities. I had a lot of deadlines to beat even if I really wanted to work on that cover."
Noah felt sorry that he could not finish the cover, so he decided to message Reanne again and invited her to make an original song.
"After a year or so, I said sorry, I asked her if she would like to do a song together to make up for the cover that we weren't able to finish. And she said yes, that's when our first single was made."
Currently, Noah Alejandre is a third year Computer Science student in Visayas State University (VSU) while Reanne Borela is a Fine Arts freshman in the University of San Carlos (USC).
As they make music together, they named their duo "Reon." Their band name was formed through handpicking letters from both of their names. Apparently, they were unaware that their band name had a special meaning. It was a coincidence that "reon" are actually characters in Kanji (chinese characters used in japanese writing system) that means (麗)beautiful and (音)sound. With the two combined, their band name can be translated as "beautiful sound" which perfectly describes their kind of music.
The first debut
In December 2019, the two young artists collaborated on their first original song through online chat. Yes, you read it right — both of them had to send their audio clips via online because they had busy schedules in school.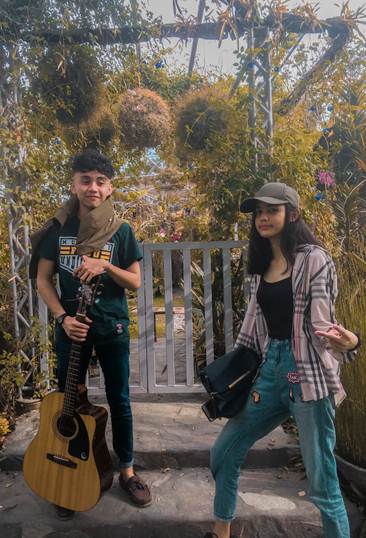 On January 6, 2020, the duo released their first single titled "Off My Mind" on Spotify. In just a couple of days, the song recorded a staggering 13,369 reach and 3,265 engagements in the Spotify community.
After their debut, the two kept making songs and successfully produced eight singles namely: Off My Mind, New Beginnings, I'm Human Too, Lisan, Better Off Without You, I Really Like You, Dreams, and All That I Need.
Their music was even recognized internationally. Their song "Better Off Without You" has listed over 170 thousand streams from over 55 countries on Spotify. From March alone, they recorded a total of 2,531 monthly listeners from 35 countries and 157 followers. After 7 months, the duo earned 100 thousand listeners from both local and international communities — a great milestone for these young Ormocanons.
The "reon" brand of music
According to Noah and Reanne, their music tells a "narrative of different experiences." Their songs are inspired by significant encounters in life that all of us might have experienced. They aim to touch the hearts of their listeners by bringing out those experiences on their lyrics.
Reon in general belongs to the Indie genre, but their songs are considered as "bedroom pop music" as they produce their singles in a small room rather than in a professional recording studio.
Currently, Reon can be found in any music platform such as Apple Music, Amazon Music, Deezer, Youtube, and Spotify. They also have their official social media accounts in Facebook, Twitter, and Instagram.
Into the spotlight
Currently, Reon is one of the top 15 finalists in the whole Philippines and one of the top contenders from Visayas for the Philpop 2020, a music competition for Filipino music artists. This coming December, they will be competing against other artists for the one million-peso grand prize.
Just recently, Reon has also secured a deal with Warner Music Philippines making them under their management. Warner Music is one of the three major labels in the whole world along with Sony and Universal. Reon is the fifth band/artists from the south to have signed a deal with them.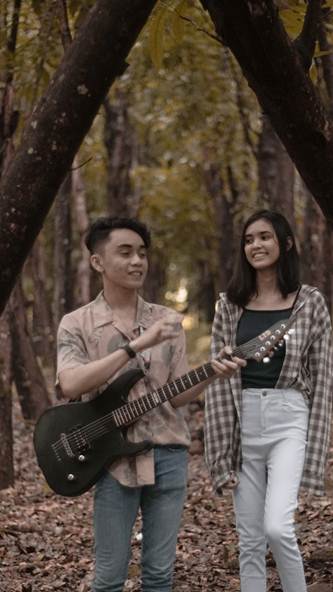 "I mean being signed to one of the three major labels in the whole world right now is big for us as artists. We're actually the fifth band/artist from the south to have signed a deal with them and we're more than proud to have earned it with the help of people recommending us to the people of Warner."
Who would have thought that what was once seen as a hobby, now turned into an opportunity to pursue their love for music. It was fate that bounded these young artists to cross paths.
A lot of things could have happened. What if Noah ignored Reanne's videos on instagram? What if Reanne rejected Noah's invitation to do a cover? But then again, they did not.
Noah and Reanne now embark on a greater journey ahead. As they continue to make music, their fan base is growing and they are slowly making a name for themselves. It is truly amazing how unexpected turns in life could lead you to greater heights.
May the passion of these two blossoming young artists continue to give birth to even more beautiful sounds that would capture the hearts of many.
---
Margraf von Jean Eslopor contributed to this article.