Dictatorship is democracy's primary foe. And in 1986, with the Filipino people deprived of their freedom and enraged at the perversion of power of the late dictator Ferdinand Marcos Sr.; amplified by the murder of Ninoy Aquino during the Marcos regime – a revolt was set to ensue, setting in motion the initial stages of the revolution that would liberate the nation from the shackles of the tyrant Marcos. In a span of four days (Feb 22-25 1986), the People Power Revolution transpired and became one of the most important events in Philippine history that have contributed to the current political climate in the nation. After 37 years, the historic event which unfolded on Epifanio de los Santos Avenue (EDSA) continues to be relevant.
In honor of another passing year after the Philippines' emancipation from totalitarian rule, this timeline of events revisits the country's struggle in pursuit to topple a dictator and restore its forfeited democracy.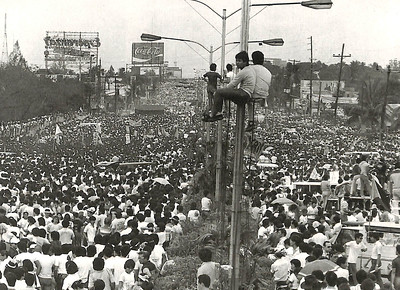 People rallying at the main artery of the country's capital, EDSA, Early afternoon of Feb. 23, 1986. (Photo by Joey De Vera, People Power: The Philippine Revolution of 1986)
The last straw (February 20, 1986)
On February 20, 1986, Marcos declared himself the winner of the snap elections held on February 7 in the same year and was therefore expected to remain in power. That same day, Corazon C. Aquino called for civil disobedience that included striking and boycotting banks, media outlets, and other enterprises that Marcos and his cronies owned or supported; and incited a people's victory rally at Luneta with two million people in support of her cause. In response, Marcos threatened to reimpose Martial Law should Cory Aquino orchestrate a statewide strike. Marcos also assembled a large-scale spectacle of support wherein 12 million pesos was reportedly set aside to pay for supporters to join a proclamation rally in his honor.
February 22, 1986
Past midnight on February 22, 1986, Marcos' defense minister Juan Ponce Enrile conducted a meeting in his home wherein he was finalizing a speech in which he would identify himself as the leader of a ruling junta, a military group that will rule the country by force. According to the plan, rebel forces will strike Malacanang on February 23 at 2:00 am, with Col. Gregorio "Gringo" Honasan anticipated to be commanding the strike.
Yet only a few hours later did it become brutally obvious that Marcos had been made aware of their strategy, and that AFP Chief of Staff General Fabian Ver had sent a Marine battalion precisely where the rebels planned to launch their assault.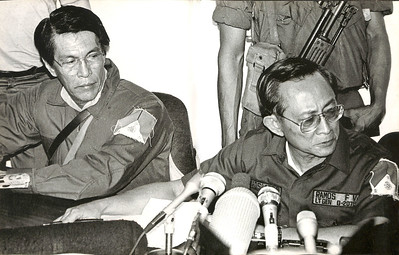 By midday, Stephen Bosworth, the US ambassador to the Philippines, and Philip Habib, the "troubleshooter" for US President Ronald Reagan, met with President Ferdinand Marcos to discuss the escalating political crisis and to urge then Philippine President of Ver's resignation. Meanwhile, Enrile is informed of the instructions to collect up all members of their movement when Honasan and Lt. Col. Eduardo Kapunan arrive at his residence. When given the choice between hiding or regrouping, Enrile decided on the latter as the "more honorable" course of action and ordered everyone to report within Camp Aguinaldo and Camp Crame.
Enrile and RAM talk about how to conceal their coup attempt in order to garner backing for themselves. Enrile calls AFP Vice Chief Gen. Fidel Ramos before heading to Camp Aguinaldo, who offers his unwavering support. The two would later announce their defection from the Marcos administration. Although they lack armor, air, and artillery equipment and have less than 500 soldiers, they assert that their goal is to restore authority to the people in the person of Corazon Aquino, whom they acknowledge as having been duly elected.
The Catholic Church immediately backed Enrile's decision and did so by issuing a statement calling for public support that was broadcast on Radio Veritas. "Leave your homes now. I ask you to support Mr. Enrile and Gen. Ramos, give them food if you like, they are our friends."
"My dear people, I wish you to pray because it's only through prayer that we may solve this problem. This is Cardinal Sin speaking to the people, especially in Metro Manila," added Manila Archbishop Jaime Cardinal Sin.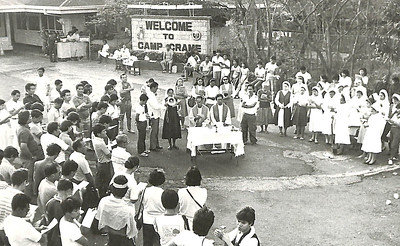 A few hours later, Enrile phoned Cory Aquino, who was at a rally in Cebu at the time, to warn the woman that she may be in danger from Marcos. Around 10:30 p.m., Ferdinand Marcos made a public appeal to Ramos and Enrile to "stop this stupidity and surrender so that we can negotiate" while claiming to be "in control of the situation" on television.
The first human barricade to surround Camp Crame and protect the troops from impending counter-offensives is formed by nuns and seminarians of Bandila. The younger brother of Ninoy Aquino, Agapito "Butz'' Aquino, decides to help the rebels despite the advice of his group (August Twenty-One Movement) to wait and asks for volunteers to meet him at Isetann in Cubao before marching to Edsa to reinforce the alleged breakaway Marcos soldiers. The camps and their vicinity quickly became crowded with people. And in EDSA, close to 100,000 people kept vigil on that first night, a figure that would only increase, and thus comes the unfolding of the historical EDSA 1.
February 23, 1986
The Church's appeal to support Enrile and Ramos was made public. Soldiers are seen receiving food and drink from people gathered in insurgent camps. In a speech from Cebu, Cory Aquino urged the Filipino people to support Enrile and Ramos and urged "decent elements in the military" to join the defectors. For the purpose of a smooth transition of authority, she also urged Marcos to step down.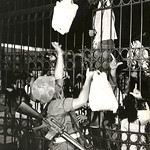 As a response to Cardinal Sin's call, protesters are seen giving supplies to Enrile's troops. (Photo by Pete Reyes, People Power: The Philippine Revolution of 1986)
Enrile and Ramos met at EDSA while being shielded and supported by an increasing number of people who appeared to be stoking a revolution at the time. Nonetheless, Marcos and his surviving officials had gathered the remaining troops still under his control, forming lines of armored tanks into barriers along EDSA while being escorted by highly armed battalions. But a sea of Filipinos poured into the streets of EDSA, forming a barrier that prevented the tanks from getting near Enrile and Ramos. This marked the start of the banded Filipinos' display of force, which included songs, flowers, slogans, prayers, and sincere offers of friendship to stern-looking soldiers.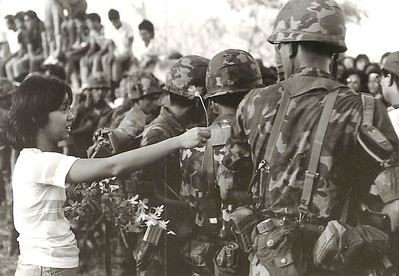 A girl gives a flower to a soldier. (Photo by Roger Buendia, People Power: The Philippine Revolution of 1986)
About 4:00 p.m., Marcos extends an absolute pardon to Enrile and rejects his demand to stop the tanks. At around 6:30 pm, Radio Veritas signs off on broadcasting when the emergency transmitter bogs down. Enrile announces the refusal of his soldiers to accept Marcos' offer of pardon during a news conference. About seven o'clock in the evening, papal nuncio Bruno Torpigliani gives Marcos a letter from Pope John Paul II requesting a peaceful end to the conflict. After Enrile phoned the US ambassador in an effort to put pressure on the Palace to exercise more caution in its earlier acts, the White House released a statement doubting the "credibility and legitimacy" of the Marcos administration. Meanwhile, more officials withdrew their support for Marcos.
February 24, 1986
Church bells tolled and people gathered in the vicinity surrounding Camp Crame on Jaime Cardinal Sin's summons, as word of Marcos' soldiers' impending assault on the rebels' stronghold spread. Tear gas was to be used to assault the bystanders, but the crowd refused to move. Once more, a crowd gathers at Edsa, where tires are set on fire and the roads leading to Camp Crame are blocked with sandbags and rocks.
At about 6:30 am, June Keithley, a Radio Veritas broadcaster who has been covering the uprising against Marcos since it began, declares on dzRJ (christened Radyo Bandido dzRB) that Marcos and his family have left the country. Enrile and Ramos address the jubilant mob outside Camp Crame after their victory. However, Marcos disconfirmed the news by appearing on television with his family and his generals, where he announced the termination of his "maximum tolerance" policy and declared a national state of emergency while strongly rejecting the idea of stepping down from office. Later on, Marcos' press conference at the Palace would suddenly be cut off the air.
Meanwhile, people continued to fill the areas within EDSA to protect Enrile, Ramos, and other officials.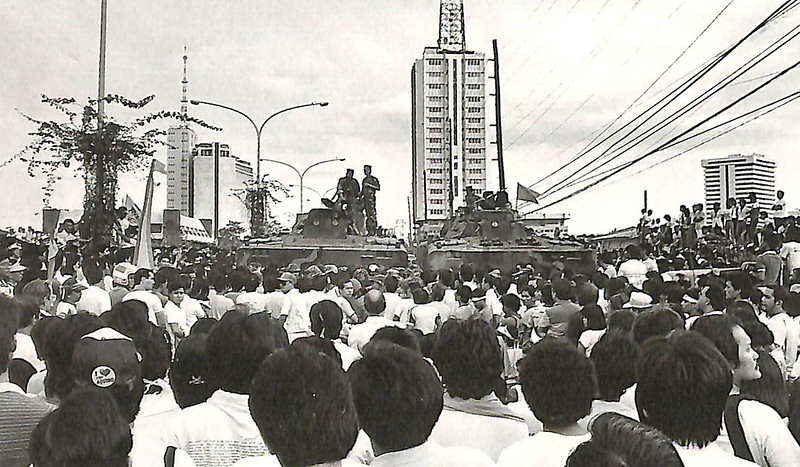 Unarmed civilians confronting the Marines in their tanks and armed with machines guns. (Photo by John Chua, People Power: The Philippine Revolution of 1986)
At about 4:30 p.m., Cory Aquino appears on a makeshift platform in front of the Philippine Overseas Employment Agency (POEA) office on EDSA and Ortigas Avenue and gives a quick speech to the people. Later that evening, Roman Cruz Jr., the CEO of Philippine Airlines, gives Cory Aquino his letter of resignation, making him the first prominent figure to acknowledge her as the legitimately elected President. While in Washington, Reagan agrees to publicly call for Marcos' resignation, and the United States officially endorses Aquino's provisional administration.
At 8:10 PM, Marcos and his entire family appear on television and demand that everyone submits to him as the "duly constituted authority." He declares a 6 PM to AM curfew, which no one obeyed. That night, the place that would hold Cory Aquino's inauguration as President was decided.
February 25, 1986
On the last day of the revolution, Marcos loyalist soldiers shot through the barriers on Nagtahan Street, hurting a number of civilians. On the phone with Labor Minister Blas Ople, Ferdinand Marcos claims that First Lady Imelda Marcos advised him against resigning. But not long after, Marcos gives his family the green light to prepare for departure.
People were asked to stand to watch at Club Filipino in San Juan on this day in case Marcos tried to obstruct Aquino's inauguration as president. Senior Justice Claudio Teehankee administers the oath of office to Cory Aquino, with Salvador Laurel as her Vice President.
Marcos arrives at Malacañang's Ceremonial Hall just before noon to take his own oath of office. The Philippines now has two presidents for the very first time in its history. Over 2,500 people had gathered below as the Marcoses, with Bongbong dressed in fatigues, went up to a balcony and waved. "Martial law! Martial law!" the crowd yells.
At 3:45 PM, people's power prevails as they refuse to let loyalists ram through barricades erected at Tomas Morato and Timog Avenue in Quezon City.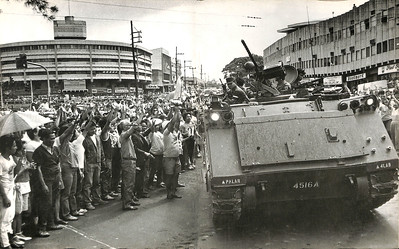 Military vehicles pull out of the Circle neighborhood. (Photo by Linglong Ortiz, People Power: The Philippine Revolution of 1986)
Marcos contacted Enrile between 5:00 and 6:00 p.m. and begged him to tell the rebels to cease shooting at the Palace. The president made a point of expressing his desire to depart the Palace. Everyone in the Palace started to pack not only books but also stacks of money. The spouse of Imee Marcos, Tommy Manotoc, contacted a friend at the U.S. Embassy and took up the offer of a ride out of the Palace. Marcos, however, informed his family and the rest of his Cabinet that he had made the decision to pass away at the Palace. In sobs, his family begged him to board the chopper and fly away.
"The Marcoses have fled the country," reports Radio dzRH at 9:52 PM, which US Air Force TV station FEN confirms shortly after. Celebrations broke out, and protesters yanked open the Palace gates. Members of the Palace household and security personnel, as well as Marcos supporters fleeing Malacanang, jump into the murky Pasig River to escape the enraged crowd. Malacanang is infiltrated by looters and vandals as Ramos' men enter to secure the area.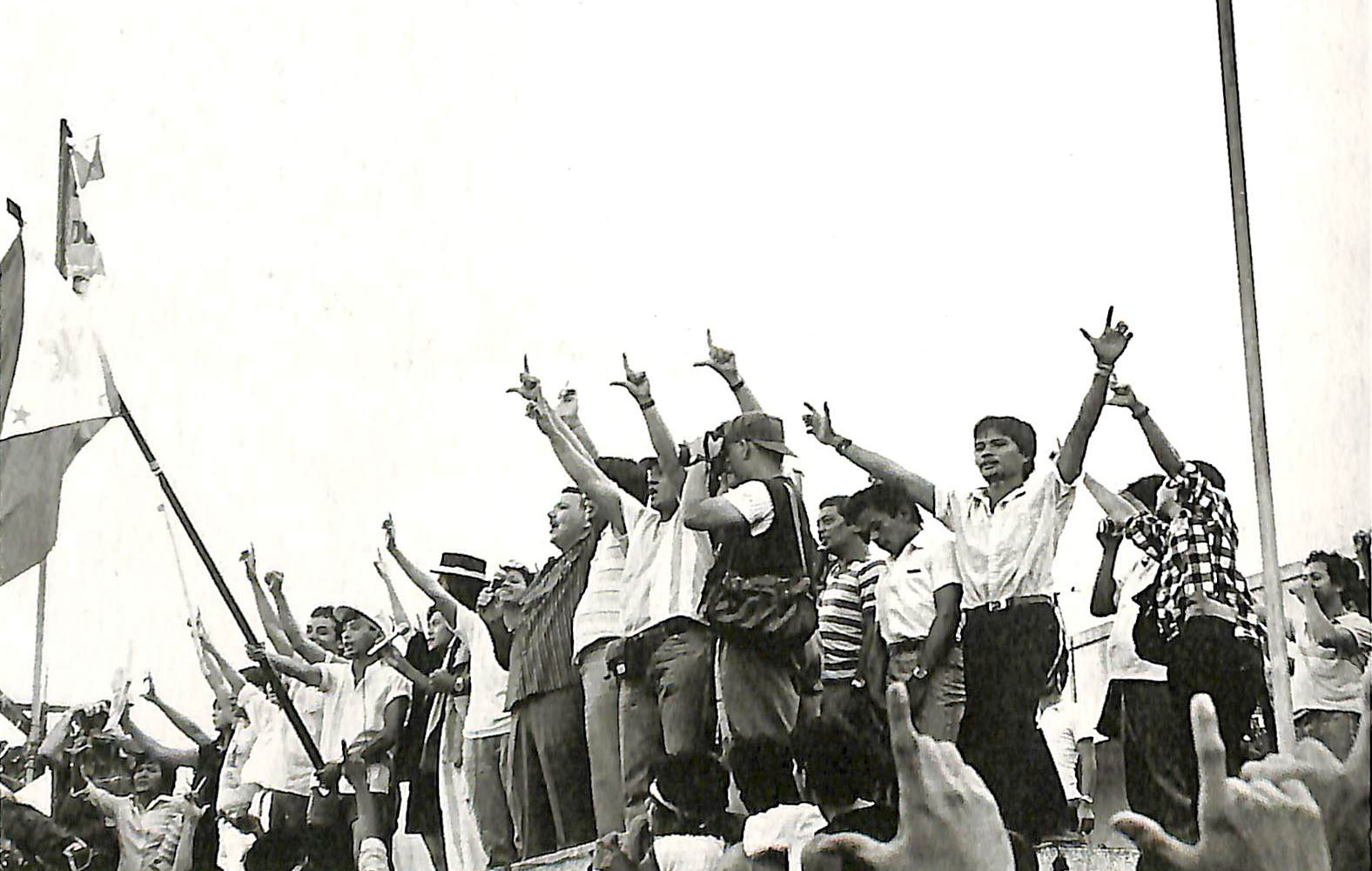 The ouster of the Marcoses sparked celebrations across the country. Artists and performers are seen in the photo staging show. (Photo by Erwin Elloso, People Power: The Philippine Revolution of 1986)
The four days of EDSA People Power in themselves were a representation of the emergence of the Philippine revolution, from its early stages as an immediate reaction to the skewed results of the 1986 snap elections, to its later stages as a vigil to protect top military officials from Marcos' retaliatory plots, a proclamation of support that was unreservedly motivated by the Catholic Church; to streets steadily brimming with people to peacefully confront with armored tanks – a face-off of linked arms and prayers, This peaceful movement led to the collapse of Marcos' two-decade authoritarian regime and led to 'the rebirth of democracy'.
Such an ardent movement has forever altered the history of the Philippines and enraptured the democratic spirits of neighboring nations who stood witness to this struggle of the Filipino people. The People Power was our restoration of long-deprived rights and freedom. These protests provided the groundwork for united, more coordinated campaigns for Philippine independence built upon civil disobedience. Having said that, we must also consider the significance of figuring out how to start over and help address the concerns and injustices that first rendered such totalitarians so popular. It is during these times that we get to assess if our decisions for our country have justified the grief and battle that our predecessors went through so we can speak our minds without fear of persecution and live our lives in security