BAYBAY CITY, Philippines – Long queues greeted the returning students of Visayas State University, fresh from their holiday breaks to enroll for the 2nd semester.
The enrollment week that started January 3, 2017, saw lines that were longer than the usual, owing to bottlenecks in the registration process, and students paying their accounts from last semester.
Many students had to deal with unpaid dues from the first semester before they could continue with their enrollment.
The long queues became a problem, compounded by the lack of crowd control and the disorganized giving of priority numbers. Students complained about the lack of cashiers assigned at the old accounts section, and few facilitators taking care of the assessment of fees. These caused bottlenecks in the process since only university administrative staff are authorized to assess and accept payments.
Enrollment queues at VSU are usually long and tedious, but this year was unusually so. The line for the payment of fees started at the IT building, crossing the street to the new library building, and even reached the Mahogany Men's Hall.
Student frustrations
Because of this, students couldn't help but air their frustrations and disappointments concerning the state of the enrollment.
Ronith Ruedas, a senior BS Agriculture student, expressed her dissatisfaction with the slow registration process and the poorly managed lines, "Ya-ya gyud ug dili organized ang mga linya. Di masabtan kung unsa na nga [priority] number, kinsa nay gitawag."
(The lines are not organized and the progress is very slow. The calling of priority numbers is not even clear.)
Joyce Villanueva, BSAE-2, also shared the same sentiments, "Four days nako diri pero old account gihapon ang ako gi-settle. Dugay gyud kaayo sa old accounts, ang usa ka tawo lang kay 30 minutes mag-process."
(I've been here for four days now, yet I'm still settling my old accounts. Their service is very slow – one person takes 30 minutes to make transactions.)
One student pointed out the lack of manpower as a big reason of the many delays. Jenefa Canoy, BSBio-4, said that removing the assessment of fees in the registration process was a right decision.
"Last sem, easy lang gyud ang enrollment, dili kaayo hassle. Karon kuwang jud ug manpower, sakto ra gyud nga gitangtang na ang assessment of fees. Unsaon na lang sad tong mga taga-lagyo nga nag-expect intawon nga one day ra mahuman na kay mao man lagi ang schedule. Tapos mao diay ni, maabot ug four days. Stressful."
(The enrollment last semester was easier compared today. It was right that they now removed the assessment of fees, considering they lack manpower. There are many students who live far from here, and they are expecting to finish the enrollment in one day, since it is written in the registration schedule. And then this happened, we reached four days here.)
The assessment of fees was removed in the enrollment process to at least make the registration faster. Photo by Mark Pineda
Edmark Mata, BSGE-1, who has been in VSU for three days now, talked about the distribution of priority numbers always resulting to early cut-offs. "Three days nako gabalik-balik dire. Sa first day nako pag-ari, naabtan ko sa cut-off, 9AM palang to. Nibalik ko pagka-ugma sa buntag, cut-off gihapon. Hasta karon, cut-off gihapon. Pero bisag hapon na nagpila man gihapon mi mao tong gipirmahan na lang mi sa cashier."
(It's my third day coming back yet I haven't secured a priority number. They always run out of priority numbers and they call for cut-off early at 9AM. Until now, they are still on cut-off. Fortunately, the cashier signed our registration permit for us to finally move on to the next step.)
However, there were students who see this situation as also a fault in their part. A student, who requested to remain anonymous, said "Yung mistake rin naman nasa estudyante rin eh. Understandable yung iba na wala pa talagang pambayad last sem pero yung iba na tinamad lang magbayad, they're the ones who made this enrollment this messy."
(Students are also at fault here. It's understandable for those who really have no money to pay for their fees last semester, but those students who were just lazy to pay, they are the ones who made this enrollment this messy.)
Joy Garciano, BSEd-4, also voiced out her protests concerning students who don't follow the rules of the enrollment process. "Ang ako lang unta, ang uban students must be responsible in following rules. Daghan jud ug tikasan. Imagine, alas-siyete sa buntag nag-linya na mi dire, unya gi-adjust ang linya kay naa may naghimo ug laing linya, so pag-adjust sa linya, kami na hinuoy nauwahi. Gipanggutom na mi dinhe, naglisod na mi unya nganong ing-ana?"
(Students must be responsible in following the rules. We've been lining up here since 7AM but then, they adjusted the lines because there were students who made their own lines. Now, we are here at the farther end. We're hungry, and we're having a hard time. Why is it like that?)
Why the mess?
While students are voicing out many complaints, Mr. Norman Villas, UCC Computer Programmer, said that VSU is aware of this difficult situation. He explained why this is happening:
"Ang natabo, ang mga students nag-take ug exam sa finals, human adto nagsalig ang mga students nga sa enrollment na sila mubayad. Na-shock gud ang mga cashiers ngano gamay ra man ang namayad karon nga para finals. Mao nato pagbalik sa klase, tanan nga wala namayad, nilinya para sa old account. Plus, ang manpower nag-short kay naa may mga staff nga gi-promote, gibalhin ug laing office."
(The cashiers were surprised because only few students settled their accounts during the final exams. The students decided not to pay their fees for the enrollment beforehand. Now, many students have back accounts. The lack of manpower was because there were staff promoted and transferred to other offices.)
Mr. Eliezer Velasco, University Registrar, assured that they are now applying solutions to make the registration process easier for the students.
"We are now reinforcing additional staff to cope with the demand."
However, Villas admitted how difficult it is to hire new workers.
"Ang problema kay dili ing-ana kasayon mag-add ug tawo. Kay ang cashier nga ibutang kailangan naay experience. Dili gyud na siya ingon nga butang ra kag cashier diha, naa man gyud process ang pag-hire. Ang gibuhat karon, ang kadtong naa sa accounting office, ila gyud gi-pull out ug gi-deploy diha. Ang trabaho ngadto sa accounting ila sa gipa-stop until mahuman gyud ning enrollment."
(The problem here is that it's not easy to add people who are qualified to work there. The cashier has to have an experience and besides, there is a hiring process. What we did was to borrow people from the accounting office and deployed them there. Their tasks in the accounting office are temporarily halted so that they can help with the enrollment.)
Faster at Landbank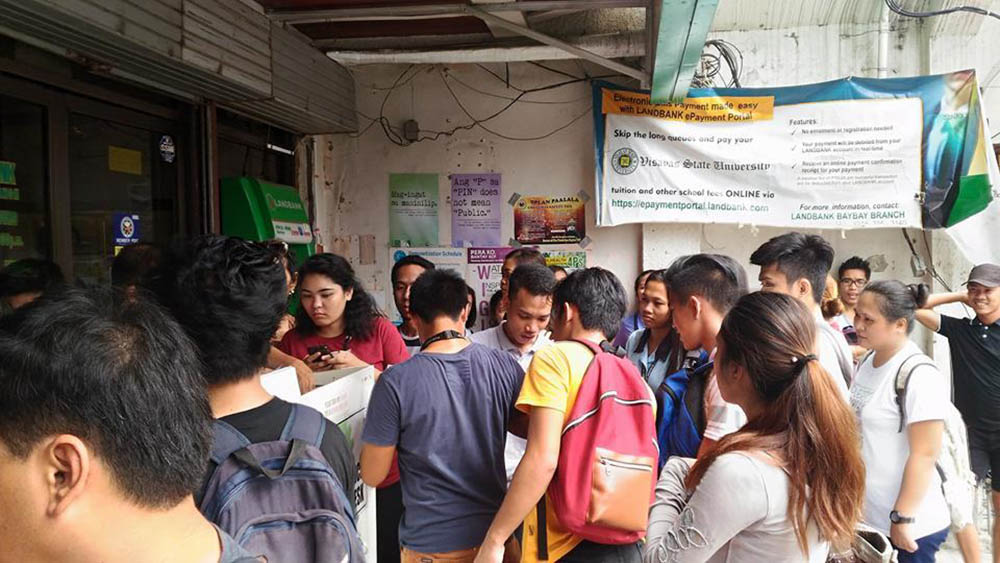 VSU students crowding the main door of Landbank of the Philippines, Baybay City branch, to pay for their account fees. Photo by Faith Sinogaya
In the fourth day of the enrollment, the students standing in queue at the VSU IT building become manageable. However, the Landbank of the Philippines, Baybay City branch, had to accommodate hundreds of students lining to pay their account fees.
Rosalie Competente, BSAB-4, said that the cashiers at VSU gave them an alternative way to pay their fees. "Nangutana ko unsay laing paagi sa pagbayad sa old account, giingnan ko nga ngadto na lang daw Landbank. Gitagaan ko ug bank account sa VSU, then nangayo mi ug OR tapos pa-validate."
(I asked if there is another way to pay for the old account fees and the cashier told me to go to Landbank. They gave us the VSU bank account, we asked for our official receipt then we proceeded to the validation.)
Students said that process of paying is faster in Landbank.
As of January 6, Friday, Marlon Dampios said that the lines and calling of priority numbers are already under controll. Dampios manages the ROTC students and guards who see to it that lines are properly followed.
Amaranth fueling the delay?
Many students appeared surprised to have a remaining balance of 50 pesos under the student publication fee in their back accounts, which hampered the enrollment process even further. This was, however, already implemented during the past semester despite not being in the old assessment forms.
Mr. Celso Sacro, who was in charge of validation, revealed that the notice citing the addition of 50-pesos to the publication fee had reached DCST two months late. The assessments were already printed, and students who settled their accounts during the 1st semester were also surprised to find a fee that was not listed in their forms.
This 50-peso fee was the increase that was approved by the students during the plebiscite conducted at the last General Assembly, where Amaranth requested the increase of the publication fee from 50 pesos to 100 pesos, citing lowering student count and increase in operational costs.
The increase was under conditional approval by the VSU Board of Regents, meaning, it was to be implemented immediately upon approval by the students.